First Appearance of The Chrome Pebble Collection in Hong Kong
Rupert Sanderson is proud to announce the global launch of the distinctive chrome 'Pebble' Collection. The original 'Pebble' accessory was leafed in gold and applied to a small collection of shoe and sandal styles. This quickly grew into a modern chromed accessory that worked brilliantly with a variety of different shoe shapes and materials. The distinctive asymmetrical outline of the 'Pebble' has proved a limitless source of inspiration and has been re-cast in materials as diverse as wood, crystal and even rope. It has served as the genesis of buckle ideas, bracelets and heels. The original gold chrome iteration which stems from the stone found on a Sri Lankan beach remains its truest and most popular expression. Worn by some of the most inspiring and highprofile women in the world, it is with great pleasure and pride that we are able to make these distinctive and much-loved shoes available at SWANK.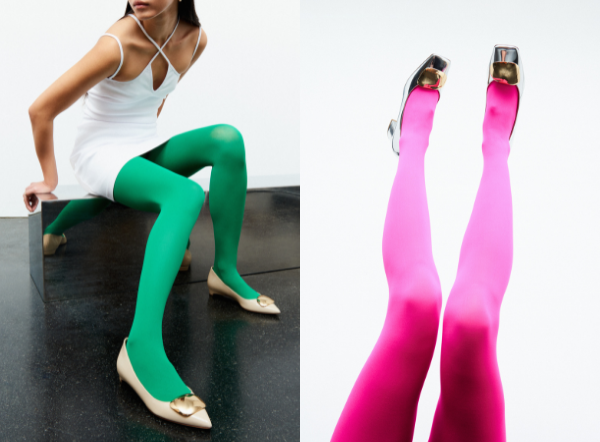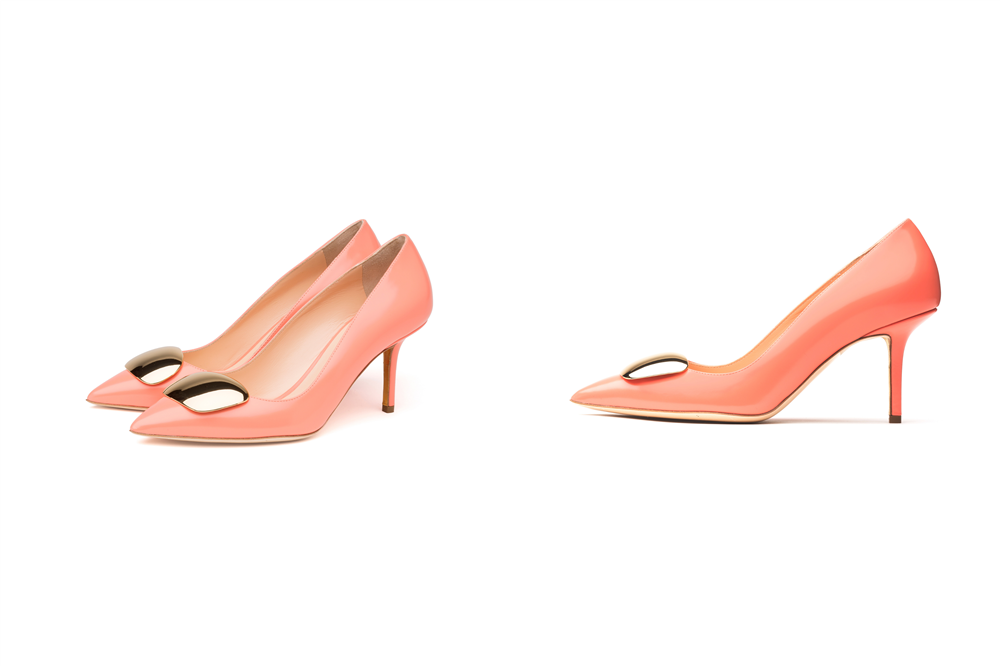 Nora Chrome Pebble in Patent Leather (Shop Now)
A season-friendly pointed court shoes sitting on a slim, 60mm stiletto heel suits you from desk-to-dinner.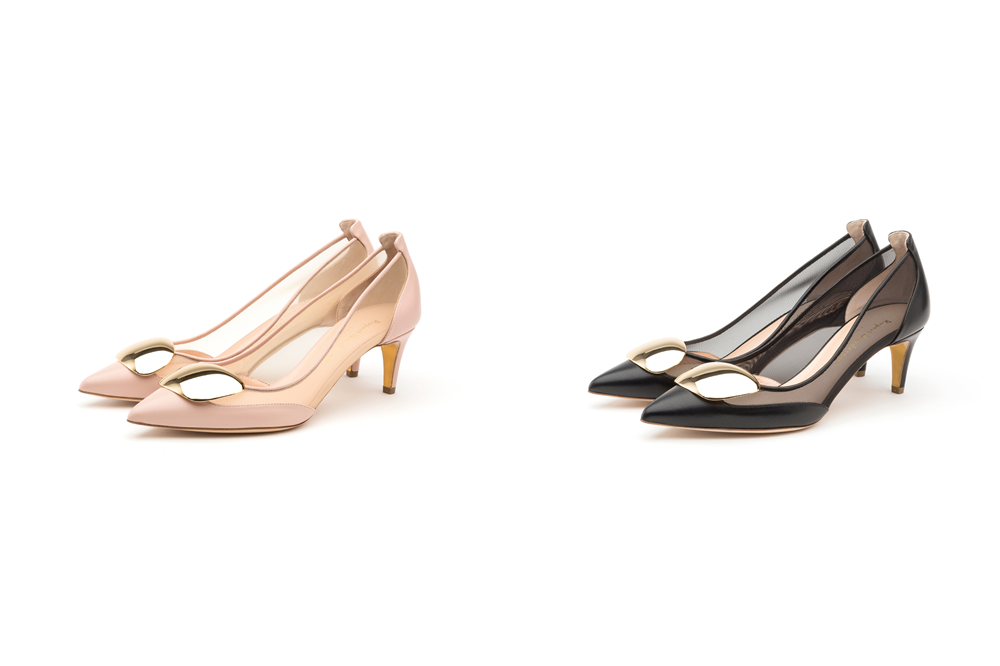 Marora Chrome Pebble in Calf Leather Mix Mesh (Peony Nude / Black)
A pointed shoes with a 55mm slim stiletto heel and is contructed using supple Peony Calf and Mesh, and topped with the singature Gold Chrom Pebble.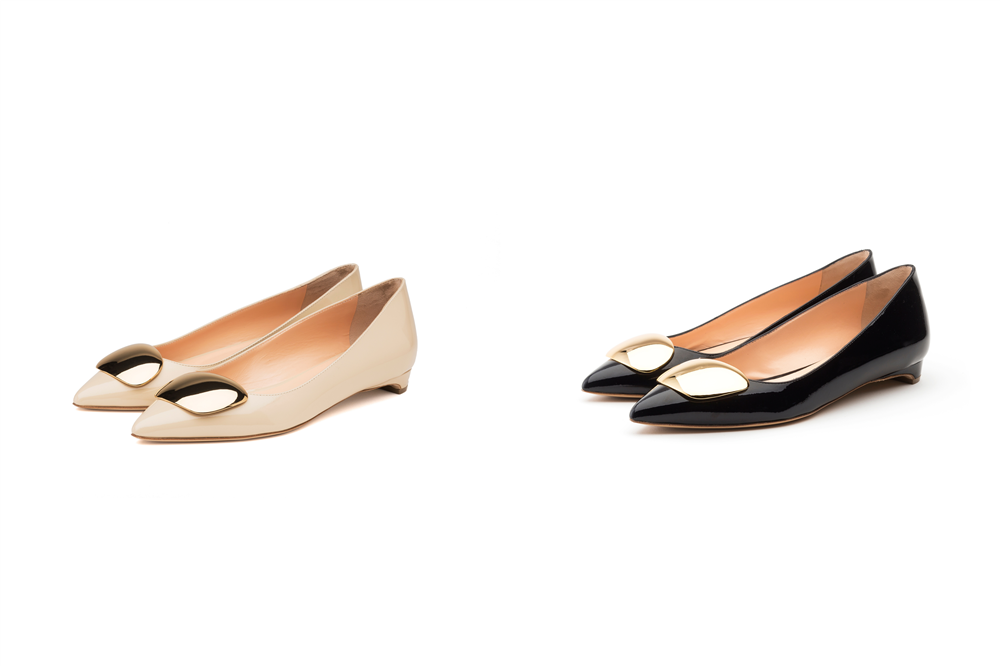 Bedfa Chrome Pebble In Patent Leather (Bisque / Black)
The Classic Bedfa flat is one of the best choice to wear from day to night and is smart enough for the office and events.
Where's The Pebble Design Inspiration From?
The 'Pebble' was born out of two happy accidents 20 years apart. While touring the beaches of Sri Lanka in the 1980's, Rupert picked up a simple polished stone. It felt good in his hand, warm and perfectly shaped nestled in his palm. Pocketing it as a keepsake of a magical time in his life, it moved everywhere with him, eventually becoming a paperweight on his desk. Years later while designing and searching for ideas, Rupert picked up the softly rounded stone and placed it on the toe of a shoe. The clashing combination of a large asymmetrical lozenge shape and a refined pointed toe worked instantly.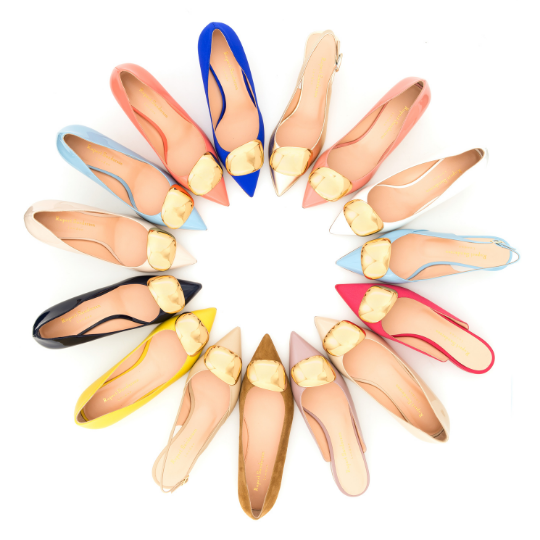 About Rupert Sanderson
Rupert Sanderson founded his eponymous company in 2001 after training at Cordwainers College in East London and spending time working in Italy. His brand was founded on the simple design philosophy 'less is more' and he uses traditional shoe-making methods learned during his time abroad. The inspiration comes from the materials themselves; from the sensual curve and silhouette of the lasts and heels to the quality and finish of the best Italian leathers and fabrics.